Newfoundland and Labrador's colourful towns hugging its dramatic coasts, its ancient forests and its wildlife, from moose to whales, have attracted adventurous tourists for decades. But now, with new visa programmes and a positive 'Way Forward' immigration policy, the province is becoming a new destination for those looking to start a new life overseas. So, if you're thinking of of making 2019 the year you move here, find out about life and the best places to live in Newfoundland and Labrador.
A home away from home
'Newfies', as the locals are nicknamed, are known for their friendly welcome to outsiders. In fact, Maclean magazine named Newfoundland culture as one of the ten friendliest in the world. And don't get them wrong – Newfoundlanders will tell you that they do have their own regional culture. They had self-governing status as a dominion in the British Empire up to 1948, when high war debt led the state to join in confederation with Canada. They're proud of their local markers of identity, including the distinctive Irish-influenced accent!
So-called 'CFAs' (come-from-aways) are relatively few, with most coming from the UK and USA. Nonetheless, the low cost of living and high quality of life are attracting more and more people in the know. Immigration applications are up by 25% this year. Many new arrivals report that they quickly feel settled in and involved with local life, with a Ryerson University study describing the province as a highly successful welcoming community.
Newfoundland's low cost of living and high quality of life are attracting more and more people in the know. Immigration applications are up by 25% this year.
How easy is getting to and around Newfoundland?
Newfoundland is actually closer to Ireland than Calgary, and, at five hours from London, is barely further than Cyprus by plane. That's a full three hours less than to Toronto! The main international airports are in St John's and Gander, with flights by Air Canada and Lufthansa.
Learn more moving overseas and buying a property in our Emigration Guide.
Newfoundland and Labrador looks small on a map, but that's not helped by the sheer size of Canada. In reality, you'll still have North American distances within the province. On the island of Newfoundland, Port aux Basques to St John's takes about nine hours' drive. On the mainland, Labrador City to Blanc Sablon takes a whopping 15 hours.
A more unusual aspect of driving here is the need to look out for moose! There are around 120,000 of them on the island of Newfoundland, and they don't pay much attention to the Green Cross Code. You'll see signs highlighting common moose crossing points dotted along the main highways.
What is local life like?
Newfoundland and Labrador is perfect for anyone looking to escape the rat race or big-city living. Much of the population lives in small, close-knit towns along its 18,000 miles of coast. Many of these former fishing communities feature beautiful homes in a similar style to the Maritime Provinces, with colourfully painted clapperboard exteriors and generously sized rooms.
The lifestyle here is active – unsurprising given the stunning nature surrounding you wherever you are in the province. There aren't many places where you'll go on a coastal walk and see a humpback whale breaking the surface beside an iceberg. The northern migration of whales and 'southern sailing' of icebergs coincides uniquely in Newfoundland in spring.
Winter sees the mainland and parts of the island blanketed in snow. Snowboarding, snowmobiles and skiing are all popular pasttimes here, and Marble Mountain is considered Canada's best eastern ski resort. For beginners, Gros Morne and Terra Nova both have over 40km of groomed cross-country ski trails.
In St John's, the locals celebrate the height of summer with 11 days of festivities, including the Royal Regatta.
Spring and summer is the time for festivals and parties. In St John's, the locals celebrate the height of summer with 11 days of festivities, including the Royal Regatta. Twillingate is a good one for children, hosting the Fish, Fun and Folk Festival in July. For theatre lovers, Shakespeare by the Sea sees performances of the Bard's works against the dramatic backdrop of the Atlantic.
Where are the best places to live in Newfoundland and Labrador?
So, if you're persuaded by the province's lifestyle, here are the best places to live in Newfoundland and Labrador. The first choice is between the mainland of Labrador and the island of Newfoundland. The mainland is both colder in winter and warmer in summer, but, although it makes up around 70% of the province, has only about 8% of the population. Of those, around 22% are First Nations. There are, however, some technical work opportunities in iron ore mining. It's also easier to access the larger cities and facilities of the province of Quebec. Newfoundland has a milder climate and is more densely populated, with more work opportunities.
St John's
St John's is the capital city, located on Newfoundland. Its colourful homes sell for an average of around $300,000. The downtown is largely dominated by rowhouses, painted in bright hues, while you can find modern-style 'exec condos' along the waterfront. Strict heritage laws prohibit tall development and stipulate particular styles, so, if you buy a house with a view, you know it won't be disappearing any time soon. George Street in downtown St John's is the centre of local nightlife, known for its pubs, bars and restaurants.
Fogo Island
This island's beauty and remoteness has made it a centre for artists. It still has a working fishing community, too, mainly for crab and lobster. The main settlements are Fogo, Tilting, Seldom-Little Seldom and Joe Batt's Arm. They're all small, close communities, with large, two- or three-storey detached houses dominating the housing market.
Brigus and Cupid
These twin towns almost feel like you're in England, with narrow streets and historic architecture. In fact, Cupid is the oldest English settlement in Canada. However, although they're small, they can get busy: the three-day Blueberry Festival sees over 12,000 visitors a year on average. Homes are largely bugalows, mainly detached, selling for around £150,000-$350,000.
Corner Brook
Corner Brook is a bit of an unprepossessing name for a city on the mouth of the Humber River and sitting on the Gulf of St Lawrence, opposite Gaspé in Quebec. Its university and large high school, as well as sizeable hospital, make it a bustling centre for the northern end of Newfoundland. The Marble Mountain Ski Resort isn't far away, so it's perfect for winter sports lovers. There's a strong sense of local culture, and it's the capital of the Qalipu Mi'kmaq First Nations Band government.
Don't lose thousands of pounds when transferring to Canadian dollars. Find out how to fix in a single exchange rate in the free Property Buyer's Guide to Currency. 
Happy Valley-Goose Bay
The largest settlement in Labrador, Happy Valley grew out of the need for workers to service the airforce base nearby. It's a relatively average Canadian provincial town, but does offer easy access to the beautiful surrounding nature of West Labrador. The region's known for its camping, hunting and fishing culture.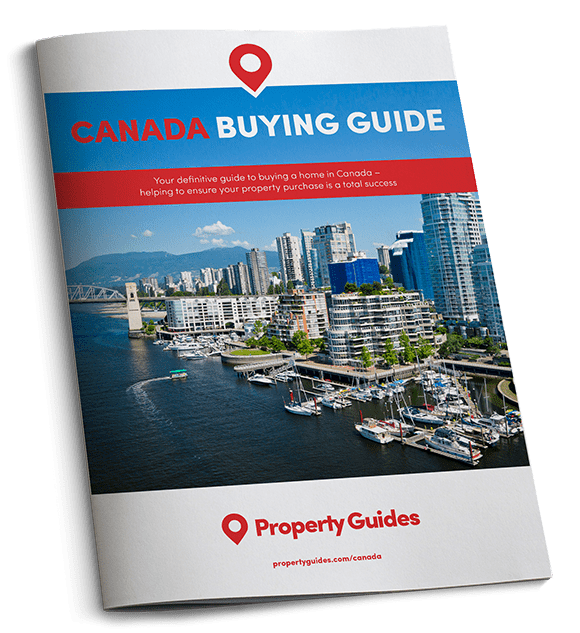 The Canada Buying Guide takes you through each stage of the property buying process, with practical recommendations from our experts who have been through the process themselves. The guide will help you to:
✔

  Ask the right questions
✔

  Avoid the legal pitfalls
Download your free guide to buying in Canada