The coastal city of Vancouver, British Columbia, is a popular spot for British expats and retirees to move abroad. Read on to discover why in our Vancouver area guide.
With snowy mountains to the north and east and the Pacific Ocean to the west, there's no shortage of great views. The cosmopolitan city offers plenty of shopping, arts and culture and green nature. Also, skiing, boating, hiking and biking make it ideal for activity enthusiasts who also want to live in a world-class city.
Life in Vancouver
Vancouver is the largest city in British Columbia, with a population of 2.5 million. Located on a peninsula, Downtown Vancouver is reachable via a series of bridges. Additionally, Metro Vancouver also includes multicultural Burnaby, green Coquitlam and Surrey with its fantastic beaches.
Vancouver culture
The West Coast of Canada is known as more laid-back and that's certainly the case in Vancouver. There's excellent hiking around Garibaldi Lake, Tunnel Bluffs and Burnaby Mountain. Therefore, the outdoors is a big part of many locals' lives.
The city itself is a melting pot of different cultures, from the First Nations, to more recent arrivals from around the world. There are always new cuisines to try out and festivals to attend. Vancouverites have lots to keep themselves busy!
Vancouver climate
The climate in Vancouver is milder than most of the country. Winter temperatures rarely dip below 0°C. There are typically only a few snow days in the year (although the mountains get regular snow). Summers are warm and dry. The average temperature between June and August is about 25°C. Coastal Vancouver gets plenty of rain, keeping the mountain forests green.
The West Coast of Canada is known as more laid-back, and that's certainly the case in Vancouver.
Vancouver public transportation
Public transportation in Vancouver is top notch. The three SkyTrain lines cross Downtown Vancouver, while the bus and sea bus network connect you to the suburbs. Plus, the city also offers HandyDART. This is a door-to-door shared service for people with accessibility difficulties. Vancouver is also a bike-friendly city with a big push to use the many cycling trails.
Vancouver education
There are plenty of public and private schools across Vancouver teaching in both English and French. They work towards the Dogwood diploma, British Columbia's graduation certificate. However, many also offer international equivalents like the IB or AP.
The University of British Columbia is the largest university in British Columbia. Additionally, other universities in Vancouver include British Columbia Institute of Technology (BCIT) and Simon Fraser University.
Cost of living in Vancouver
Vancouver is the 39th most expensive city in the world. Property prices went up 63% between 2015 and 2018. However, salaries are higher than many parts of Canada. The average income of a professional in Vancouver is CAD$70,000.
Daily needs are on par with other large cities. 8GB internet has an average monthly cost of CAD$57. A casual lunch for one would be CAD$18. Movie tickets for two cost on average CAD$29. Finally, petrol is currently CAD$1.47 per litre (July 2018).
To see what your budget could get you in Canadian dollars, request a free, no-obligation quote from Smart Currency Exchange.
Working in Vancouver
Vancouver is a key part of the Canadian economy with a competitive job market. The economy means there are plenty of opportunities. However, often expats are contending with highly skilled Canadians for the top positions. Therefore, you need to really sell yourself to employers. Networking is also important as a way to smooth entry into the workforce.
Some of the major sectors in Vancouver include mining, forestry, IT, tourism and building. Skilled workers will often find it easier to land a job.
Some of the major sectors in Vancouver include mining, forestry, IT, tourism and building.
Working in Vancouver requires a valid visa unless you have citizenship or residency. The Government of Canada's Immigration website is the best place to explore visa and work permit options.
Areas of Vancouver
Vancouver has a big diversity of areas, from bustling Downtown to quieter suburbs close to nature. Here are some of the best for house buyers looking to buy in Vancouver.
Downtown Vancouver
Downtown Vancouver is the city's hub where business, shopping, arts and culture create plenty to see and do. Living in Downtown Vancouver offers the fast-paced lifestyle that many British expats crave. It combines this with excellent roads and plenty of green space, parks and a sea wall perfect for enjoying the outdoors. Some neighbourhoods in downtown Vancouver include Gastown, Yaletown, West End and Coal Harbour.
Kitsilano
Kitsilano (Kits) is the 'new-age' neighbourhood where yoga studios, vegetarian cafés and boutique shops line the streets. It has a chic, bohemian feel and is home to some beautiful beaches, making it perfect for urbanites looking for a trendy lifestyle.
Real estate in Kitsilano, like downtown Vancouver, is more costly than most parts of Metro Vancouver. However, in return, you're only one bridge away from the downtown core. It's a great place to live for those who cycle or use public transport.
East Vancouver
The Mount Pleasant section of this district is up and coming. Much more affordable than downtown Vancouver, East Vancouver has a lively scene. It is popular with young families, professionals and students. This is no wonder as it is full of funky cafes, first-rate restaurants, stylish clothing stores, and booming bars. There is a diverse mix of cultures, and it is well serviced by public transportation – ideally located for the workday commute.
Burnaby
Burnaby, which is actually a city of its own, bordering Vancouver. It is a convenient alternative for those wishing to be close to downtown, but who need to commute to the metro centre instead for work.
The property market offers more value than other parts of Vancouver, which is a draw card for families, students and young professionals. Burnaby has excellent public transportation and has all you need for daily life, from groceries to good local schools.
North Shore
The North Shore (North Vancouver and West Vancouver) is a popular part of Vancouver to live. Nestled at the foot of the coastal mountains and with skiing, mountain biking, hiking and parks close by, this part of Vancouver draws those wanting an active lifestyle.
Popular with families, retirees and professionals, the North Shore is easily accessible via a 15-minute sea bus to downtown Vancouver. The cost to buy property and rent on the North Shore is expensive compared to other parts of Vancouver.
Other Vancouver suburbs
There are many other suburbs and small cities extending to the east and south of Vancouver. Surrey, Richmond, Coquitlam, Port Moody, Maple Ridge, Langley, Abbotsford and Chilliwack are within commuting distance to Vancouver and offer more affordable living.
When planning to move to Vancouver, make sure to consider these outer Vancouver suburbs if you're looking for more outside space for lower prices. Nearby Vancouver Island also offers rural living in a truly unspoilt environment.
Buying property in Vancouver
Vancouver's real estate market makes international headlines regularly as being one of the most expensive places to buy property in the world. That being said, there are parts of Vancouver that offer better affordability. Plus, the current property prices are beginning to stabilise.
Owning a home in Vancouver is worth the premium price tag, according to many locals. The scenery and outdoor recreation lifestyle attracts adventurous and outdoorsy expats and retirees keen to take advantage of the city's natural playground.
If you're looking to purchase a holiday home, permanent residence or recreational property in Vancouver, here are some average prices in July 2018:
A single family home: CAD$1,598,000
A three-bedroom townhouse: CAD$859,900
A one-bedroom condo: CAD$650,000
Despite high property prices, Vancouver consistently ranks as one of the top cities in the world. The Economist ranked it as the 3rd most liveable city in the 2017 Global Liveability Report.
If outdoor recreation, beautiful views and a bustling city are calling you, consider Vancouver as a place to relocate in Canada. In addition to this Vancouver area guide, keep up to date with Property Guides Canada to find expert information about making the move.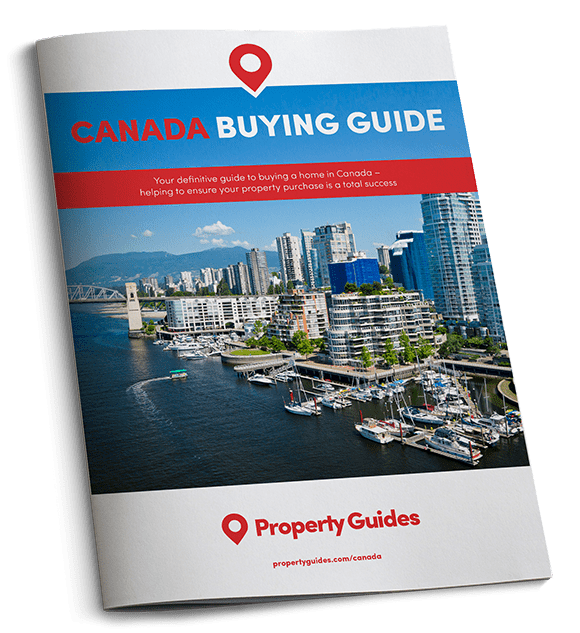 The Canada Buying Guide takes you through each stage of the property buying process, with practical recommendations from our experts who have been through the process themselves. The guide will help you to:
✔

  Ask the right questions
✔

  Avoid the legal pitfalls
Download your free guide to buying in Canada