With so much going on and an excellent quality of life, it's easy to see why Toronto is so popular among overseas buyers. Its lively bar and restaurant scene offers everything from street food to world-class fine dining, its pristine lakes and parks are ideal for watersports and cycling, and its booming economy means there are jobs aplenty.
Why move to Toronto?
It may not be Canada's capital, but Toronto is its largest city – in fact it is actually the 4th largest city in the whole of North America (behind Mexico City, New York and Los Angeles). Toronto is also one of the most culturally diverse cities in the world, with 47% of residents considering themselves part of a visible minority.
Exchange rates are constantly moving, and that means your budget will constantly change value – unless you plan ahead. Find out how to safeguard your international transfers with Smart Currency Exchange.
It contributes 20% of Canada's GDP – testimony to its booming economy. For anyone with a job listed as in-demand by the authorities, it should not be difficult to find work here.
An action-packed social calendar
There is no end of entertainment in Toronto. For those interested in film, Toronto annually hosts the Toronto International Film Festival, which attracts celebrities and fans from all over the world. Toronto's lively restaurant and bar scene is another great attraction, offering everything from world-class fine dining options, to cheap eats for those times when you are in a rush. The bars scene is unsurprisingly diverse in terms of music, atmosphere and clientele, with some establishments staying open until 4am if you really want to make a night of it.
For the sports fan there really is no other Canadian city quite like Toronto. The city is home to the Toronto Maple Leafs ice hockey team – ice hockey is a national obsession – who play in the NHL and the Toronto FC Major League Soccer team. And let's not forget that Toronto is also home to Canada's only NBA basketball team, the Raptors, and the only Major League Baseball team, the Toronto Blue Jays.
Don't forget the more outdoorsy aspects of Toronto too. As a city on a lake, watersports figure highly (just don't go too close to Niagara Falls!), as do cycling and hiking. In winter there is skiing a and ice-skating.
Toronto's economy
As one of the world's most economically powerful cities, Toronto attracts a wide range of industries, which helps to keep unemployment rates down. As a financial hub, Toronto is home to the head offices for all of Canada's major banking institutions, as well Canada's principal stock exchange. Construction is another booming industry; the city is continually expanding which means developers are busily trying to meet the demand.
Toronto is home to the head offices for all of Canada's major banking institutions as well Canada's principal stock exchange
Last year, in 2018, the fastest-growing sectors were office work and manufacturing, especially in product assembly and building components. Other growing areas included food and raw material processing. According to PayScale Inc. data, the average salary in Toronto is around $59,400. Office administrators and legal assistants can expect to earn around $40-60,000, with jobs such as project management further up the scale ($75-320,000). Manufacturing engineers will be looking at around $44-82,000. For mechanical and electrical engineers, expect around $40-100,000.
Toronto's housing market
The housing market in Toronto is varied, providing everything from family friendly suburbs to upscale condos in the city centre. With a great transportation network wherever you choose, you should find getting around the city a breeze. The benefits Toronto has to offer do, however, come at a cost; it is one of the most expensive housing markets in Canada. That said, however, it does offer much better value than many other large cities. The market is booming, with the Toronto Real Estate Board's September 2019 Report showing sales jumping 22% compared to last year, and prices continuing to rise. The average prices per property type are as follows:
| | | |
| --- | --- | --- |
| Type of property | Average sale price in 2019 | Change from 2018 |
| Detached house | $1,400,000 | +37% |
| Semi-detached house | $1,100,000 | +11% |
| Condo townhouse | $700,000 | +32% |
| Condo apartment | $640,000 | +13% |
Condo townhouses are perhaps the standout story here, being relatively less expensive than non-condo homes but showing strong price growth. However, it is important to factor in any condo fees when considering your overall budget.
Where are the best areas to live in Toronto?
Toronto is a large city – larger than some people expect – with something to suit nearly everyone. Here's our round-up of the best areas to live:
The Beaches
East of Downtown, The Beaches is perfect for families. It's named after its four lakeside beaches and offers a green, safe environment for children. The main centre of Queen Street East has fantastic independent shopping, and there are plentiful parks along the waterfront. Properties are generally semi-detached, early 20th-century homes, with some new builds further out. Prices are not cheap, but being away from some of the main transit lines, as a compromise, does help to keep them lower than they might otherwise be.
High Park North
High Park North is well connected to the rest of the city, but still retains a friendly, 'village' feel. High Park is one of the largest in Canada, with everything from Chinese gardens to tennis courts, swimming pools, a zoo, a labyrinth, playing fields and more. Subway stations High Park, Keele and Dundas West all serve the area, putting you within easy reach of the downtown core in 20 minutes. Properties here are quite mixed, including terraced houses, high-rise apartments and some detached homes.
Spadina/Queen's Quay
With a picturesque position overlooking Lake Ontario and located right in the heart of the downtown core, this harbourfront district is popular among young professionals looking to be within easy access of everything the city has to offer. Most homes here are high-rise condos, with amenities in easy reach. Queen's Quay Terminal, after which the neighbourhood gets its name, is an old ferry terminal converted into a mixed-use shopping, office and residential development.
Find out everything you need to know about moving abroad safely in our Emigration Guide.
Danforth-Greektown
Over in the East End, Danforth-Greektown is another area popular among families working within the city, due to its safe atmosphere and great transport links on Line 2 of the subway. East Danforth has a number of high-rise blocks, while Greektown is more low-rise. The 'Taste of the Danforth' food festival brings over a million visitors to its extensive food market every year.
Moving to Toronto
If you're tempted by the unbeatable quality of life and great work opportunities on offer in Toronto, don't miss your Canada Buying Guide, below. It details everything you need to know about buying in Canada from overseas, plus what to know about finances and legalities.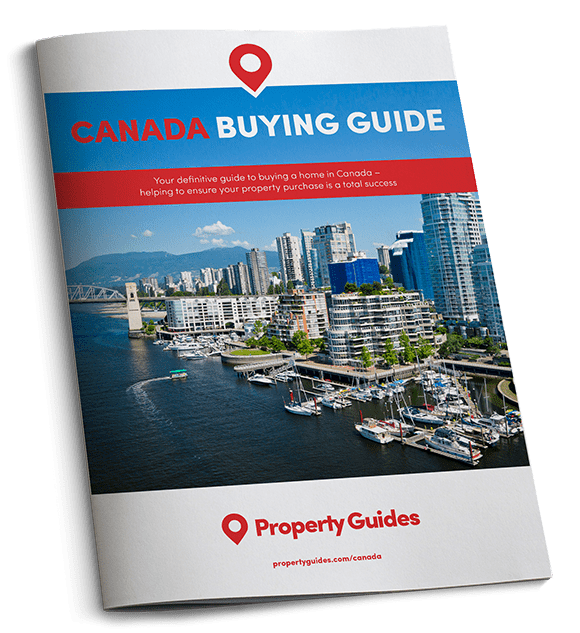 The Canada Buying Guide takes you through each stage of the property buying process, with practical recommendations from our experts who have been through the process themselves. The guide will help you to:
✔

  Ask the right questions
✔

  Avoid the legal pitfalls
Download your free guide to buying in Canada