With high targets to hit for new arrivals, Canada's immigration system is on your side – and there are plenty of visas available for all kinds of profiles. We take a comprehensive look at how it works.
For people coming to work in Canada, there are four main routes: Express Entry, provincial nomination, self-employment and family sponsorship.
The exception is the Province of Quebec, including the city of Montreal, which runs its own immigration programs. You'll find information about these in our dedicated article on immigrating to Quebec. The information below covers all other provinces and territories of Canada.
There are a few bits of jargon you'll need to be aware of when talking about getting a Canadian working visa.
National Occupation Classification (NOC): A listing of occupations by their skill type. You can search for your specific job's NOC using the Government Database. The scale is 0, A, B, C and D. 0 requires the highest education and D the least.
Canadian Language Benchmark (CLB): A framework to assess the linguistic knowledge of immigrants to Canada. This exists for both national languages (English and French). Whether you're in English- or French-speaking Canada, you may take both tests to improve your score.
Streams: These are the programs into which your application fits (eg you might go into the 'Federal Skilled Worker' stream). Streams separate out the original mass of applicants into different types.
Knowing how to negotiate effectively when buying a property in Canada could bag you a much better home for your money. Read our free guide: How to Negotiate Abroad. 
Express Entry
This is a relatively new system that manages three types of streams. They are the following:
Federal Skilled Worker Program:
This is for anyone performing a skilled, non-trade profession – eg a manager in an office environment. To be eligible, you must have at least one year of work experience in an NOC 0, A or B profession within the last ten years. You also need an Educational Credential Report to show that you have the equivalent of a Canadian high school education. You don't need a job offer already, but it will help your application. If you don't have a job offer, you must show proof that you have enough funds for your family to settle in Canada.
Federal Skilled Trades Program:
As the name implies, this is for anyone performing a skilled trade. These include the following trades:
Industrial, electrical and construction (Group 72)
Maintenance and equipment operation (Group 73)
Supervisors and technical roles in agriculture and natural resources (Group 82)
Central control operators, processing, manufacturing and utilities supervisors (Group 92)
Chefs and cooks (Group 632)
Butchers and bakers (Group 633)
You must either have a valid job offer for employment of at least one year, or a certificate of qualification in your trade that a Canadian provincial, territorial or federal authority issued.
Canadian Experience Class:
This is for people who already have previous Canadian work experience and want to become residents. You'll need to have had one year's work experience in an NOC 0, A or B profession in the past three years before application. Self-employment and student work experience don't count.
Making your application
Once you're ready to apply for your Canadian working visa through Express Entry, you need to submit a profile containing all the information above. You do this by creating an account on the Canadian government's site.
Your profile will then be ranked using the Comprehensive Ranking System (CRS). You'll have a total score out of 1,200. 600 of these points are 'core' and come from skills, experience and education and those of your spouse or common-law partner. The other 600 are 'additional' and come from extra 'bonuses', such as having a valid job offer, a brother or sister living in Canada, strong French skills or provincial nomination (more on that later).
If your profile is considered eligible based on scoring, you'll be invited to enter the Express Entry pool. You'll need to supply all the complete documents, such as language tests and police certificates. While in the pool, you can still improve your profile. For example, you can use Job Bank to find a job offer. Likewise, if you gain further work experience or education, you can add this in.
You need to start planning your finances as soon as you start planning to move to Canada – otherwise your budget is at risk of losing thousands to changing exchange rates. Find out more in the free Property Buyer's Guide to Currency. 
Invitation rounds
Once you're in the pool, you'll continue to be ranked using the CRS. The highest-ranking candidates at set periods will be invited to apply for Permanent Residency. This is known as a 'round'; the dates are not always published in advance. Some rounds will only cover, for example, the Federal Skilled Worker program.
You'll receive instructions telling you what to expect from each round. For example, on 22nd August 2018, the round was open to all programs and a total of 3,750 applications, with the lowest CRS score being 440.
Responding to invitations
If you are invited in a round, you'll be contacted with your next steps. This will usually be to show proof of the information in your profile. You'll also need to recalculate your score if your situation – or your spouse's – has changed. If you decline an invitation, you'll be able to rejoin the pool.
If you haven't been invited in 12 months, your profile will expire.
Provincial nomination
Provincial nomination is when you apply to a specific province or territory for a Canadian working visa. Each province has its program, known as 'streams'. They target what they need in their own province, whether it's students, tradespeople or business people.
Each province or territory has its own entry requirements. You can apply in one of two ways:
Express Entry: As above, you can apply electronically through one of the three Express Entry schemes, using provincial nomination as part of your score. You can state in your profile if you're interested in more than one province or territory. The province or territory might then contact you to ask for further information, so that they can nominate you on the Express Entry system.
Paper-based: Alternatively, you can go directly to the province or territory itself, by applying on paper. You'll find the instructions on applying for an individual stream on your chosen province or territory's website.
This might seem slightly confusing, but there is logic in the process. If you meet the eligibility of one of the three Express Entry streams and they suit your plans and you also know the province or territory you want to live in, it makes sense to apply for a Canadian working visa that way. If you don't meet those requirements, you may meet a province or territory's own individual requirements in a different scheme. In this case, it's better not to go through Express Entry.
Canada enjoys world-class healthcare. Find out how to access it in our Healthcare Guide.
Self-employment applications
If you're looking for a Canadian working visa and are self-employed, you'll need to fill out an electronic application package.
To be eligible, you'll need to have relevant self-employment for at least two years in the five years before applying. You'll need to show that you can establish a business that will create an employment opportunity and create a significant contribution to Canada.
Your application will be scored out of 100, based on experience, age, education, language proficiency and adaptability.
Do note that Canada no longer accepts applications for self-employed farm managers. Most self-employed people will be in the cultural sphere.
Family sponsorship
If you have relatives living in Canada who are a citizen or Permanent Resident, they may be able to sponsor you. They must be able to support you financially. They have to meet specific income requirements and agree in writing to give you financial support for up to 20 years (depending on your age).
First, your relative must apply to be a sponsor by filling in the application package. You must then apply for permanent residence.
Are there fees for a Canadian working visa?
In a word, yes. You'll need to contact the relevant authority to guarantee them, but they're often within the range of CAN$1,040-1,540 for a single businessperson without dependents. Including spouses costs around CAN$1050 again. When you apply for permanent residency, you'll often need to pay a fee of around CAN$490. A permanent resident card and travel document each cost CAN$50 respectively.
Moving with a Canadian working visa
Once the authorities approve your application, they'll post you a Confirmation of Permanent Residence (COPR) and a visa. When you arrive at the Canadian border, bring your passport, COPR, visa and proof of funds. An officer from the Canada Border Services Agency will meet you and interview you. This is to be completely sure that you still meet the terms your residency was granted on.
If you arrive with more than CAN$10,000 on you, you must declare it to the officer.
Once that's done, it's goodbye formalities and hello to your new life! To find out more about finding and buying a home in Canada – as well as finding work – download your comprehensive Canada Buying Guide below.
Still have questions? Call the Resource Centre on 020 7898 0549 or canada@propertyguides.com.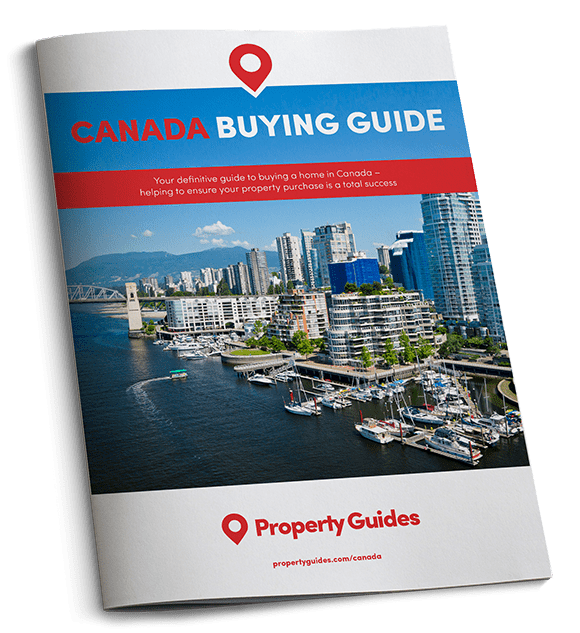 The Canada Buying Guide takes you through each stage of the property buying process, with practical recommendations from our experts who have been through the process themselves. The guide will help you to:
✔

  Ask the right questions
✔

  Avoid the legal pitfalls
Download your free guide to buying in Canada