Flying from London to Newfoundland takes around five hours – not much more than driving from London to North Wales! So, if you want a holiday home for the family to enjoy, why not swap the UK for the open spaces (and huge houses) of Canada, and give the kids the adventures of a lifetime? Here are our top five spots to look.
Resort Municipality, Prince Edward Island
Kelowna, British Columbia
St John's, Newfoundland
Colourful St John's looks almost like a real-life film set, with its houses painted in bright blues, reds, yellows and greens. It's the oldest city in North America, and kids will find plenty to explore down its winding, historic streets. Climb up Signal Hill to go iceberg spotting as they make their way down the so-called 'iceberg alley' from Greenland, or take a boat tour out to go whale-watching. Just thirty minutes away, visit the Witless Bay Reserve's puffin colony. At only five hours from the UK, it's a perfect place for a family holiday home in Canada.
Getting here:
St John's International Airport, approximately 15 minutes' drive from central St John's. Direct flights to London and Dublin and connecting flights from all major Canadian centres.
Knowing how to negotiate effectively for your property in Canada could bag you a much better home for your money. Read our free guide: How to Negotiate Abroad. 
Property prices:
Two-bedroom townhouses near the water, $450,000. Two-bedroom condos near the water, $225,000. Two/three-bedroom, single-family homes inland, $120,000.
Queens, Prince Edward Island
LM Montgomery's much-beloved classic, Anne of Green Gables, has made Prince Edward Island famous the world over. Anyone who chooses this as their place for a family holiday home in Canada will enjoy the benefits of the close-knit, welcoming island community. One of the most popular areas on PEI is in Queens County, an area nicknamed 'Resort Municipality'. It's a beautiful rural area made up of several small towns (Stanley Bridge, Hope River, Bayview, Cavendish and Rustico) which are perfect for families with children. Enjoy swimming at Cavendish Beach, or try cycling along the coastal paths to explore the natural beauty of this island.
Getting here:
Charlottetown Airport, about 30 minutes' drive from Stanley Bridge. You can also take a car ferry from Caribou in Nova Scotia or Iles-de-la-Madeleine in Quebec, taking around 75 minutes.
Ready to start seeing some properties once travel restarts? Our Viewing Trip Guide covers what you'll need to look out for.
Property prices:
Three-bedroom, single family homes by the water, $300,000. Two/three-bedroom apartments, $170,000.
Mont Tremblant, Quebec
What would a list of family holiday homes in Canada be without some great skiing? Although Mont Tremblant doesn't quite have the same dramatic scenery (or elevated prices) as Banff, it is ideal for a holiday home, as it's so accessible from the UK. The village itself is authentically Quebecois, with French-style architecture around a central square, where you'll find plenty of cosy cafés and restaurants. As well as practising their skiing, children (and grown-ups) can try sleigh rides, rock climbing, ice fishing and even dog-sledding.
Mont Tremblant is a dual-season resort, meaning there's lots to do over the summer, too. Go rock climbing, cruise Lake Tremblant and, of course, explore the surrounding National Park.
Getting here:
Mont-Tremblant International Airport, 20 minutes' drive with connections to international flights from Toronto-Pearson and Ottawa International Airport, or Montreal-Trudeau International Airport, 90 minutes by away shuttle.
Property prices:
Two-bedroom condos in the resort, $300,000. Three-bedroom chalets in the resort, $2,000,000. Three-bedroom townhouse outside the resort, $500,000.
Property Guides have created a free 
Emigration Guide 
to help you with your move to Canada. It covers each important step in this sometimes complicated process.
Canmore, Alberta
Heading further towards western Canada, Canmore in Alberta benefits from the best of both worlds, being right on the doorstep of Banff National Park, but also just one hour's drive away from Calgary – the home of Canadian cowboys! The Calgary Stampede takes place every July, and is a must-see, with thousands of cowboys, mounties, First Nations dancers and more. Canmore itself has a 'proper' Canadian-style Main Street, and is a very pedestrian-friendly, green town. On rainy days, head to Elevation Place, a maze of a recreation centre with a lazy river, children's pool, climbing gym and more.
Getting here:
Calgary International Airport, 1.5 hours' drive, with flights to London Heathrow and London Gatwick.
Property prices:
Two-bedroom condos, £450,000. Two-bedroom, single-family homes, $860,000.
Kelowna, British Columbia
The unofficial capital of the Okanagan Valley, Kelowna sits right on the shores of the beautiful Lake Okanagan – fantastic for a swim (or even a spot of parasailing!) from Hot Sands Beach when the summer temperatures hit the 30s. There's plenty on for families: take the kids to the Fat Cat Children's Festival, or spend the day outdoors at Knox Mountain Park, or zipping around Myra Canyon Adventure Park. Adults will also appreciate the excellent wine that the region is known for producing!
Getting here:
Kelowna International Airport, twenty minutes' drive from Kelowna with connecting flights to London. Vancouver International Airport, four hours' drive from Kelowna with direct flights to London.
Property prices:
Two-bedroom, central condos, $400,000. Two-bedroom condos in the suburbs, $350,000. Two/three-bedroom houses in the suburbs, $450,000.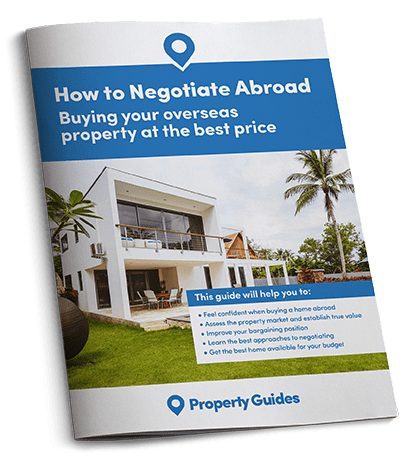 How to negotiate abroad is the guide to put you back in control:
✔

  Feel confident when buying a home abroad
✔

  Assess the local property market
✔

  Improve your bargaining position
✔

  Learn the best negotiating tactics
Download your free Negotiation Guide