Planning your property viewing trip to Canada
Before making a final decision about whether Canada is right for you, it's important to visit the country for yourself. Here are our tips to help you get the most from your visit.
Moving across the Atlantic is a big deal, and for this reason, it's vital you take the right steps to establish that it's the move you should be making. You'll no doubt have an idea of what your life will be like in Canada but until you walk on its streets, meet the people, and experience the weather – you won't know for sure that you're making the right decision. Where possible, we always recommend visiting at least once before you set the wheels of your move in motion.
Where possible, we always recommend visiting at least once before you set the wheels of your move in motion.
Time to research
If you've been offered work, or are moving to Canada in pursuit of a specific lifestyle, chances are that you have your sights set on a particular location. If you still need to make up your mind, you should sit down and list what you want from your new life, and then work out which Province best meets your needs. Maybe they'll only be one or two contenders? Or perhaps your trip will be a closer look at the city you have your heart set on? Either way, determine which cities, towns, or suburbs work for you and then plan to visit them whilst in Canada.
How long does the trip need to be?
You need to ensure you have ample time to visit each of the places on your list. Obviously this will be easier if you only have one or two destinations in mind. Whichever scenario applies to you, we recommend allowing yourself at least a couple of days in each spot – you need to allow yourself time to explore, and to soak up the vibe, and you can't be expected to do this in an hour or two.
What time of year should I go?
It's important that you understand what life will be like in Canada during the winter, especially as temperatures can drop to Arctic levels in some regions. Although it would undoubtedly be nicer to visit in the peak of summer, you need to understand just how cold things can get before you sign up to a life in Canada.
Where should we stay?
The point of your trip is to see where you'd like to live – so, it makes sense that you stay somewhere that allows you to integrate with local life. Hotels are all well and good, but they rarely provide the authentic experience that an Airbnb or that other forms of self-catering accommodation can. You need to experience the area as a resident; shop in the supermarkets, buy coffee from the local cafes, try out the nearest eateries. Use your trip as an opportunity to glimpse what life would be like if you were to end up living there. This is a chance to check out the local amenities, i.e. how many schools will you be able to choose between? What medical facilities serve the area? Are there enough shops close by to get everything you need?
Use your trip as an opportunity to glimpse what life would be like if you were to end up living there.
When people emigrate to Canada, we recommend that they rent property in the first instance. This allows them to know for sure that the area they set their heart on is the right one for them – and sometimes working this out takes time. Whether you're visiting with the intention of buying right away, or just to recce your shortlist of areas, our Viewing Trip Guide is an invaluable resource. Download your free copy today and access more useful hints and tips about how to plan a successful trip to Canada.
Choosing a property
If you are relocating for work, and know exactly what you want and need from a property, you may be using this trip to find your new home. In this instance, you need to take a few key steps to guarantee you get the most from your trip:
1 – Find an agent
You need a good agent on hand who covers the area you're looking at, and has properties that suit your requirements and budget on their books. Before you go, make sure that they have a clear list of your wants, needs, and deal-breakers, as well as your budget, so that you can maximise your time by only looking at suitable properties.
2 – Be inquisitive
An agent is an invaluable source of local information – use your time with them to ask every question you can think of. They will be able to recommend the best schools, doctors and tradespeople. They will know the opening hours of places, where to find the best coffee, which phone network offers the best coverage, and how to connect to your utilities. Don't be shy – pick their brains, this is what they are there for!
3 – Get organised
If you're set on finding a property to buy on this visit, chances are you will be viewing numerous properties each day. For this reason, you need to be organised. We recommend taking photographs of each property, and taking detailed notes – that way, when you're debriefing at the end of the day, you will be able to clearly distinguish between all the properties, and will be better pressed to make the right decision. To help keep our readers organised, we've created a free property analysis worksheet that you can fill out as you go. Contact the Resource Team on 020 7898 0549 to get your copy today.
Find this information helpful? Share with your friends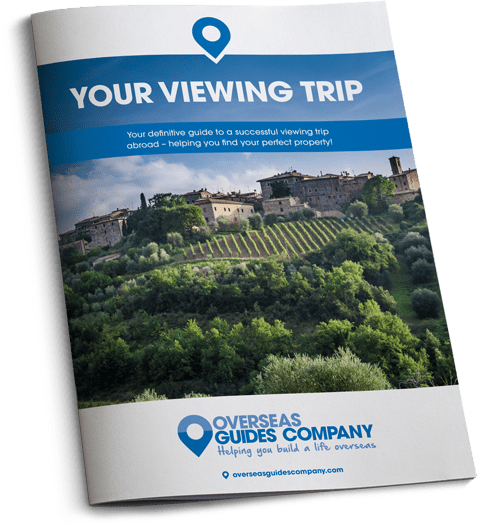 The Viewing Trip Guide is designed to support you through the process of a successful property viewing trip, with tips and information on the most important steps to take. The guide will help you to:
✔

  Find out what makes a successful viewing trip
✔

  Get the right legal advice before and after your trip
✔

  Choose the right estate agent to meet your needs
✔

  Understand the important financial considerations
Download your free guide to viewing trips