Adelaide's often said to be 'not too big, nor too small'. You're never far from the beaches, the wine regions of the Adelaide hills, the bustling centre or quiet suburbs. Plentiful jobs, great schools and top-class hospitals round off why it's one of the world's most liveable cities.
The most liveable city
Adelaide has topped plenty of lists of Australia and the world's most liveable cities, including by The Economist and the Property Council of Australia. The original city was built as a planned town for free settlers, rather than as a penal colony, and still today the city centre is laid out on a wide grid plan, with large squares and tree-lined boulevards. The entire city centre is surrounded by the parklands, a beautiful greenbelt of around 1,700 acres. In fact, Adelaide as a whole is extremely green, with 29 large public parks and botanical gardens.
Knowing how to drive a bargain when buying could help you get more house for your dollar. Read our guide, How to Negotiate Abroad.
Compared to other Australian regional capitals, Adelaide's quite small, at 1.3 million, but there's plenty to do for the whole family. 'Mad March' – remembering that it's summer down under! – showcases the city's thriving cultural scene, with the Adelaide Festival, Adelaide Film Festival, the wine/food festival Tasting Australia, the Adelaide 500 motor racing and more. UNESCO has called it a 'city of music', and you'll find more live music venues per capita here than anywhere else in the southern hemisphere.
A haven for foodies
The city's a haven for foodies and wine connoisseurs. The Adelaide Hills and, further away, the Barossa Valley, are two of Australia's most famous wine regions, and you can spend plenty of enjoyable weekends on tours of the local wineries. As for dining, you can run the whole range from casual favourites to fine dining – Orana, near Rymill Park, was named Restaurant of the Year in 2018 and 2019 by Gourmet Traveller and the Good Food Guide.
An affordable cost of living
Adelaide is one of Australia's most affordable major cities, with prices nowhere near the sky-high levels they've reached in Sydney and Melbourne. A house 5km from the CBD would cost around $809,000, compared to $2.3 million in Sydney. Head between 11-19km out, and you're looking at just $490,000, as opposed to $1.5 million.
Efficient transport
The old nickname 'the 20-minute city' referred to the ability of residents to get to most key places within around 20 minutes. These days, that isn't necessarily a reality, but there is an efficient Metro system, with four main lines, and a comprehensive bus system. Adelaide doesn't have the freeways from the suburbs to CBD that most Australian cities do, but traffic is not as congested as in larger cities.
Finding employment in Adelaide
Adelaide's jobs scene isn't quite as dynamic as Sydney's or Melbourne's, but the regional government is still very keen to attract new arrivals to work in the city. In-demand occupations under the regional South Australia list range across the board, from engineering managers, insurance brokers, early childhood teachers and optometrists to GPs, midwives, hairdressers, mechanics, carpenters and more. The average full-time salary in South Australia as a whole was $46,937 in 2017, according to the Australian Bureau of Statistics.
Where are the best places to live in Adelaide?
If you're tempted by the wonderful lifestyle on offer here in Adelaide, the next step is to start considering where you'd like to live. Here are some of our favourite areas.
North Brighton/Hove
Like its namesake in the UK, (North) Brighton is a beachside suburb – but the beach here is sandy and the sea is warm! A statistic you'll often see in Adelaide area guides is how close they are to the parklands, and here, 100% of residents have easy access to the greenbelt. Houses here are generally large, but sometimes at the expense of a sizeable garden, as in many Australian developments.
Average three-bedroom house price: $643,000
Don't spend any money on your move abroad until you've read

The Currency Guide to Emigration,

 free to download.
Glenelg North/South
Glenelg puts you right on the beach, with a strong sense of community. The waterfront has been developed with modern high-rises, although the suburb is actually the oldest settlement in South Australia. As such, with many new bars, cafes and restaurants, it's perfect for someone looking for a bit more life than in some quieter suburbs.
Average three-bedroom house price: $930,000
Semaphore
In North Adelaide, Semaphore is a popular choice for families. There are lots of family-friendly festivals throughout the year, and of course the beach, jetty and foreshore with its funfair attractions provide endless entertainment in the South Australian sun. Westfield West Lakes is just five minutes down the road for shopping and casual dining.
Average three-bedroom house price: $670,000
Tee Tree Gully/Banksia Park
Tea Tree Gully is an affordable suburb – technically its own city administratively – in the northeast of Adelaide. Despite being just a 25-minute drive to the CBD, it's quiet and peaceful, and backs onto the wine regions of the Adelaide Hills. Local schools include St Francis Xavier's, part of the Catholic system, and Banksia International School. There's a Westfield at Tea Tree Plaza, with all the shops and services you could need.
Average three-bedroom house price: $409,000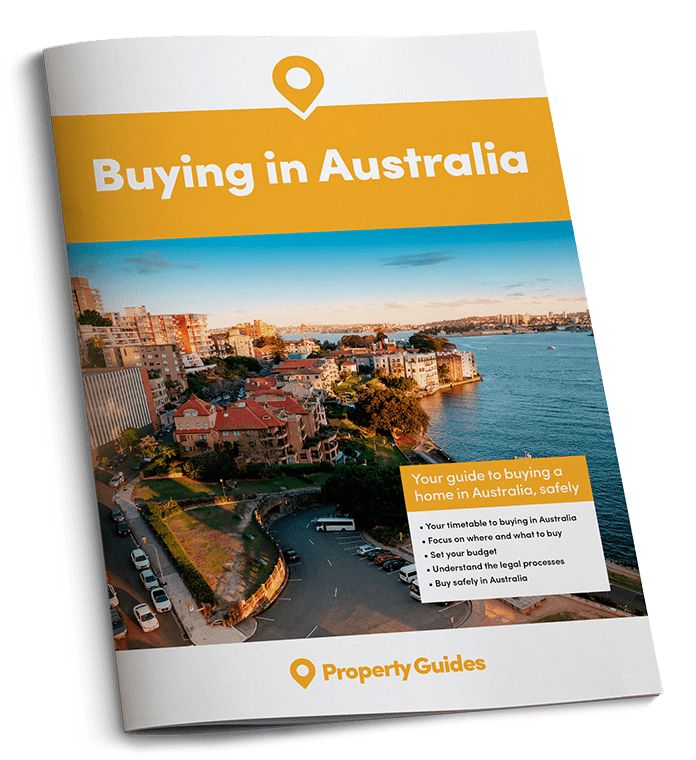 The Australia Buying Guide takes you through each stage of the property buying process, with practical recommendations from our experts who have been through the process themselves. The guide will help you to:
✔

  Ask the right questions
✔

  Avoid the legal pitfalls
Download your free guide to buying in Australia