Brisbane, affectionately known as 'Brissie', is a vibrant, friendly city situated right in the heart of the East Coast of Australia. Don't be fooled by its reputation of being just a laid-back 'large country town', there is far more than meets the eye. Brisbane is a rapidly developing city with big opportunities, big ideas, and a big vision.
The gateway to Queensland
Brisbane is the capital of Queensland, the second largest state in Australia covering a huge 1,727,000km2. Queensland is the home to stunning coastlines, national parks, the Whitsunday Islands, and five UNESCO World Heritage areas; Fraser Island, Riversleigh Fossil sites, Wet Tropics (including the Daintree Rainforest), Godwana Rainforests, and of course the extraordinary Great Barrier Reef.
Queensland certainly lives up to its reputation as "the Sunshine State" with an average of 8-9 hours of sunshine each day. In fact, Brisbane is the sunniest city in Australia, with an average of 283 days of sunshine per year. Even in a Brissie "winter", the average minimum temperature is only 10°C, and the average maximum temperature is a glorious 21°C. Summers can be hot and humid, reaching temperatures as high as 40°C. Although mid-high temperatures rarely drop in Queensland, it can have its fair share of bad weather. Queensland's sub-tropical climate is characterised by wet (Nov-April) and dry (May-October) seasons. During the wet season, Queensland is often affected by cyclones, severe thunderstorms and flooding.
Would living in Brisbane suit you?
Whether you are a young professional, have a family or are retired, Brisbane has something to offer for you. With a population of 2.27 million, Brisbane is Australia's third largest city, behind Melbourne and Sydney. In the Economist's 2019 Global Liveability Index, all five Australian cities came within the Top 20, and Brisbane ranked as the 18th most liveable city in the world. Brisbane is a multi-cultural city with 28% of its residents born overseas, many from the United Kingdom, New Zealand, China, Korea and India.
Many Brisbanites argue that their city is a mini version of Melbourne; full of culture, creativity and vibrancy. In fact, many Melbournians move to Brisbane because of its smaller size, better house prices, and warmer climate. Brisbane is also home to little laneways filled with hidden bars, hipster cafes and coffee shops. Whilst walking through the city centre, try to spot some colourful street art or interesting architecture.
The main thing that struck me about Brisbane was its fantastic commitment to large public areas and community fun. Brisbane has many beautifully maintained parks and public spaces. The Botanical Gardens and Roma Street Parkland are particular favourites. Brisbane River is at the heart of the compact city centre with cultural precincts and residential suburbs lining the riverside. Feeling active? Use the fabulous pedestrian and cycling paths to take you all along the river's edge. Make use of Brisbane's CityCycle Scheme as a fun and affordable way to move about. Alternatively, you could hop on the free CityHopper ferry which slowly meanders down the river and under Brisbane's iconic Story Bridge.
The South Bank precinct truly epitomises Brisbane's great community spirit. Covering 17 hectares, the South Bank Parkland has walking trails, picnic areas and the famous 'inner-city beach': a man-made beach with a swimming lagoon, soft sand and palm trees. If you're feeling hungry, Little Stanley Street and Grey Street are Brisbane's popular eat streets which serve a superb range of food. South Bank is also home to the Cultural Precinct which includes the Queensland Performance Arts Centre; Queensland Art Gallery and Gallery of Modern Art; State Library of Queensland; and Queensland Museum and Science Centre.
Covering 17 hectares, the South Bank Parkland has walking trails, picnic areas and the famous 'inner-city beach': a man-made beach with a swimming lagoon, soft sand and palm trees.
Brisbane has many community festivals and fantastic food markets which offer a huge variety of different cuisines. The City Market is great for lunch; quick, excellent value and most importantly, delicious! In the evening, catch a ferry to the lively Eat Street Northshore, where shipping containers have been converted into food trucks, dessert stalls and bars. There's always live music so spend a few hours to soak up the atmosphere.
A developing city
Brisbane is a city with ambition and vision. Brisbane Airport is currently building a second runway, set to open in 2020. With this new runway, Brisbane Airport Corporation's (BAC) vision is to make Brisbane into a leading global destination, and the main gateway into Queensland. New infrastructure and investment within the airport and city will lead to greater opportunities for tourism and work. In the city centre, it is hard to miss different construction sites along the riverside: for example, Queens Wharf (a 3.6-billion-dollar development) is set to become a new precinct with 4 luxury hotels, 50 bars and restaurants, 2000 residential apartments, and large open public spaces. This development alone is set to create 10,000 more jobs. On top of this project, there are many others. For example, more community and cultural precincts are being developed, and a new entertainment arena and theatre are being built. In terms of transport, there is also a new Brisbane Metro, Cross River Rail line, and International Cruise Terminal. All Brisbane construction projects are set to be complete by 2025, and are worth around $30 billion.
Work
Expats from the UK living in Brisbane should have no trouble finding work. The main industries are IT, finance, administration, mining and construction. Jobs tend to pay well in Brisbane despite the lower cost of living compared to other Australian capitals. Work-life balance is often reported as one of the most satisfying parts of living and working in Australia, and many jobs in Brisbane certainly have this appeal. Make sure you spend time exploring your visa options as there are many different options.
Where to live
Brisbane is a great place to live for UK expats and retirees looking to live in sunny Australia and who want all the conveniences of a large thriving city but without the hefty price tag. If you're looking to make the move to Australia this year, Brisbane could be just the place for you.
Still have questions about moving to Australia? Email our free Resource Centre on australia@propertyguides.com or give us a call 
on +44(0)20 7898 0549.
Brisbane's city centre is quite compact, but there is a lot of urban sprawl with many suburbs in the outlying areas around the city. Those working in the heart of the city and wishing to rent or buy an apartment near their work will enjoy the great public transportation and walkability getting to and from their job. Those living in outlying areas will need to rely on longer public transport commutes or will require a vehicle to get around. Inner-city suburbs, such as West End and Fortitude Valley, boast a great location with a buzzing, creative atmosphere. West End is a little rough around the edges, attracting many university students who like to hang out in quirky cafes. Fortitude Valley attracts young professionals searching for trendy bars, good food, and a vibrant nightlife. There is also great shopping in Fortitude Valley, with the convenience of easy access to the city and lots of public transport options. If you're looking to live in the heart of the action, Fortitude Valley is it.
New Farm & Tenerife are extremely popular, upmarket inner-city suburbs. The compact suburbs are based along the riverside. New Farm is a cultural centre and home to the fantastic Power House, a converted tram power station which hosts a range of comedy, music, dance and drama events. Both suburbs attract a more relaxed crowd, who are looking to soak up city life with high-end restaurants, boutiques and verdant outdoor spaces.
Looking for a place to settle? Within the city, there are many popular but pricey options. For example, Paddington is a desirable location for families. Situated on the hilltops, Paddington offers stunning views of Brisbane and is only 2 kilometres away from the city centre. The charming, leafy suburb has lush parks, quaint houses, vintage shops, and good schools. If you fancied living further away, Victoria Point is a family-friendly suburb, full of expats and about 30 kilometres from central Brisbane. An up-coming, family-friendly suburb is Sunnybank Hills. It has a variety of shops, restaurants and parks making it a nice little community of its own. Properties in Victoria Point and Sunnybank Hills are more affordable than inner city areas like Paddington.
The price of housing
Brisbane is more affordable than Sydney and Melbourne to rent or buy property. However, according to a report from BIS Oxford Economics, Brisbane is set for the biggest rise in house prices over the next three years. The forecast suggests that the median house price will grow by a whopping 20% from 2019-2022. Within Brisbane's city centre, apartment-living is extremely popular, and this demand is shown by numerous building projects all over the city. In particular, many new modern apartment towers are being built up along the riverside, offering superb views with an excellent location. A young couple looking to rent an apartment would spend roughly $420 per week for a one-bedroom unit, or $550 week for a two-bedroom unit. The median price to buy an apartment is $302,500 for a one-bedroom unit, and $550,000 for a two-bedroom unit. Expect to pay about $166 for a month of utilities for two people (heating, electricity, water, garbage, cooling), and $78 for internet for the month.
Kingston is the most affordable outer-city suburb, with a median house price of $325, 000.
To buy a house in a popular family-friendly suburb comes with a price tag. For example, the median property price for a house in Paddington is $1,142,500. New Farm is Brisbane's most expensive suburb, with a median house price of $1.7 million. Further away from the city, family-friendly suburbs such as Sunnybank Hills and Victoria Point offer better value housing. The median house price in Sunnybank Hills was $631,000 and the median house price in Victoria Point is $520,000. Kingston was the most affordable outer-city suburb with a median house price of $325, 000.
Weekends in Brisbane
One of the main selling points of Brisbane is its fantastic location along the East Coast of Australia. As Brisbane is located in the south east of Queensland, it is not only the main gateway into the state, but it also near to the New South Wales border. Within a couple of hours, you can drive interstate and head for hippy haven, Byron Bay, for a weekend of surf, music and 'totally chilled' vibes. Back to Queensland, there are so many beautiful spots to see. For stunning beaches, drive an hour up to the Sunshine Coast and explore the surf towns of Mooloolaba and Noosa. Don't forget to stop by Steve Irwin's Australia Zoo along the way! For theme parks and 24/7 entertainment, drive an hour down to bustling Gold Coast.
For a few relaxing days away, drive to Hervey Bay (roughly 3.5 hours) and catch a ferry to the incredible Fraser Island; the largest sand island in the world. If you fancy something a bit closer to home, idyllic Moreton Island, North Stradbroke Island and Bribie Island make for excellent day trips from Brisbane. As well as the surf, sea and sand, Brisbane is near to national parks and rainforests, with plenty of great hiking opportunities.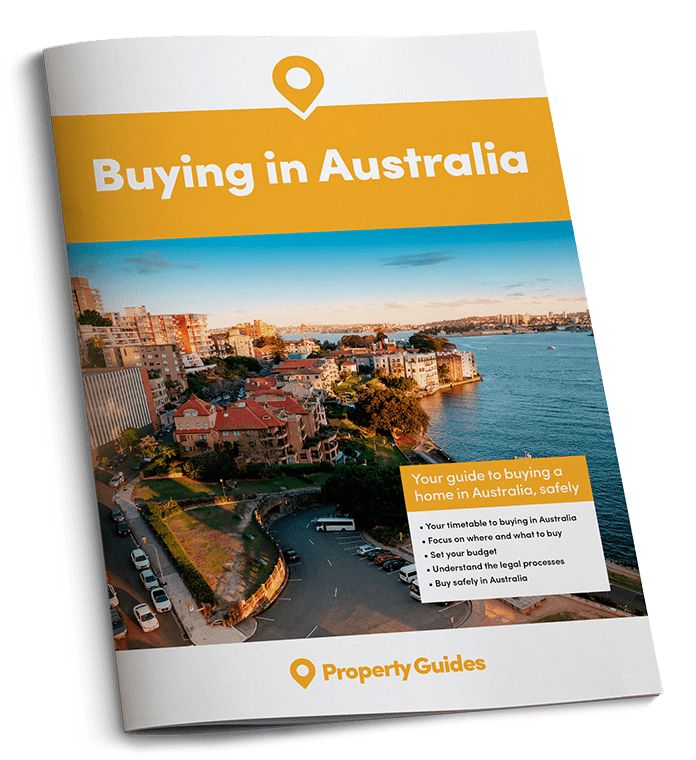 The Australia Buying Guide takes you through each stage of the property buying process, with practical recommendations from our experts who have been through the process themselves. The guide will help you to:
✔

  Ask the right questions
✔

  Avoid the legal pitfalls
Download your free guide to buying in Australia