If you've been considering relocating to Australia as an expat or retiree there has never been a better time than now. The sun-drenched country is consistently rated as having one of the best standards of living in the world, and the property market in Australia is one of the most robust and stable in recent history. British influence in Australia runs deep and emigrants from the UK make up the largest portion of expats in Australia according to the Australian Bureau of Statistics. If you're still not convinced, here are five reasons why this is the year to make the move to Australia. This is Part One of our serialisation of Buying in Australia, so make sure to follow our serialisation to find out about the whole buying journey.
Why move to Australia?
One of the strongest economies in the world
Whether you're looking for employment or thinking of starting a business, Australia has one of the most robust economies in the world. Australia is experiencing the world's longest period of economic expansion out of all first-world economies, and this year the country will have been recession-free for 27 years. This bodes well for career prospects, business start-up potential and investments.
An outdoor lifestyle will help you live longer
With year-round sunshine it's easy to make an active outdoor lifestyle part of your everyday. Australians are blessed with abundant sunshine and stunning natural beauty making spending time outside a natural part of life. Whether hanging out at the beach, enjoying a backyard barbeque or getting out on the water, outdoor living is closely ingrained into Australian culture. The World Health Organization (WHO) cites Australia as having the third longest life expectancy in the world (80.5 for men and 84.6 for women); the UK didn't make the top 10.
The air is fresher
Australia has some of the cleanest air on the planet, so you can breathe easy knowing your health is supported during your time spent in Australia. Australian air is so lucrative that it's currently being bottled and sold for £10 per can in parts of China!
A slower pace of life
It's not an exaggeration that the pace of life is slower in Australia. Whether it's the sunshine, the balanced work-life, or the emphasis on recreation and family, Australia truly exhibits a relaxed and chilled out pace. Not only is this relaxing lifestyle good for your health, it provides ample opportunity to savour important things, like time with friends and family.
Top-rated public services
Whether it's healthcare, education or social assistance, Australia is always ranked as having some of the best public services in the world. The healthcare system in Australia is free under the government subsidized Medicare program, education is heavily subsidized for permanent residents and citizens, and the welfare system is one of the best funded in the world.
What should you do before you move to Australia?
If you dive heard-first into your property hunt as soon as you have your visa, it'll take a long time. Sit down and decide what you want rather than refining your criteria as you go. That way, you'll get a more focused property hunt from the off. Ask yourself these five questions:
Why are you buying?
How will you use it?
How much can you afford?
What does your Australian home have to have?
What should it definitely not have?
Why are you buying?
This first question will help you enjoy your home after you move to Australia. It'll give clarity on what you're looking for in terms of lifestyle. With this clearly defined, you'll find it easier to pick a suitable area and home. Reasons could include:
Property investment in Australia looks strong.
We want to enjoy a larger home in a sunnier area.
he kids need more room to run around, and we all need a new adventure!
The career opportunities are just too good to miss. Why would you go there!
I don't want to regret not having gone in later years.
How will you use it?
Be honest about what your lifestyle will be like, and you'll find it easier to find a suitable home. Will you move to Australia with children? If so, do check school zoning laws for local areas. Are you moving to enjoy the weather and lifestyle? You may find cheaper homes by living further away from city centres if you're not looking to work.
How much can you afford?
Get an idea of your realistic budget right from the start – and add in at least 5% extra for buying costs. There are further ways to raise finance, but a basic budget is a good foundation. Remember too that the interbank rate (what you see on the news) isn't open to the general public. When you move to Australia, you'll need to work out how to transfer your money. Usually, you'll get a rate a couple of percentage points different to the interbank.
What does your Australian home have to have?
Think of your dream home when you move to Australia. What does it have to have? Is there a terrace, a swimming pool, is it modern or retro? Do you want a lot of outdoor space, or would you rather a low-maintenance apartment? Do you want a typical Australian single-storey home, or would you prefer two?
What should it definitely not have?
Being positive is all well and good, but do think about what you don't want, too.
Would you hate having a long journey after a long flight? Do you find a sandy beach less of a draw than your own pool? Would living in a place with a lot of holidaymakers be irksome? Now's the time to say this, before your move to Australia.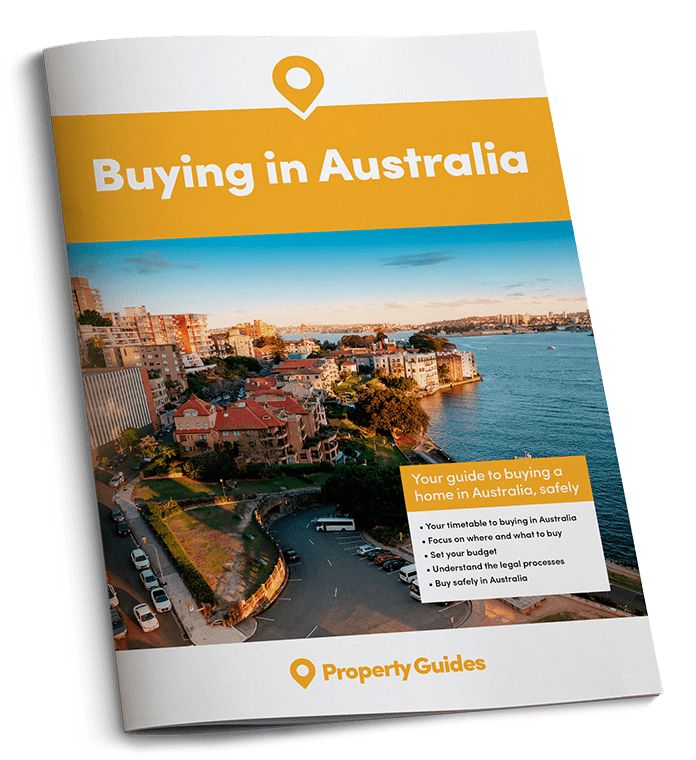 The Australia Buying Guide takes you through each stage of the property buying process, with practical recommendations from our experts who have been through the process themselves. The guide will help you to:
✔

  Ask the right questions
✔

  Avoid the legal pitfalls
Download your free guide to buying in Australia