This week, in Part Three of your Buying Guide serialisation, we're looking at where to buy in Australia. You've a wide choice of places to live, from the hustle and bustle of central Sydney, to the laidback surfing paradise of the Gold Coast and the quirky, arty city of Melbourne.
Sydney
The majority of non-resident buyers choose Sydney when looking at where to buy in Australia. This world-class city is one of the most picturesque in the world, with so many great options for property investment from the bustling central business district, the high-end Circular Quay, the beaches of Bondi or Manly or the suburbs to the East or North. Sydney has experienced a rapid increase in property prices and in the last eight years prices have gone up 113% according to Corelogic. That being said, in 2018 the Sydney market made a slight correction of 4.8%, which is expected to continue into 2019. This is great news for buyers who will now be facing more realistic prices and a less competitive market. In 2018 the average property in Sydney sold for AUD$970,000.
Melbourne
Melbourne is one of the most consistent property markets in Australia, with just a small drop in value in 2018. The cost to buy property in Melbourne is less than Sydney with the average unit price around AUD$450,000. The state of Victoria has the highest rate of interstate migration in the country at 2.3% according to the Australian Bureau of Statistics. Many non-residents are also attracted to Melbourne due to its cosmopolitan feel, high standard of living and plethora of investment opportunities. Property prices in Melbourne have increased 55% in the last five years.
The Gold Coast and Sunshine Coast
Brisbane's neighbours to the north and south, The Gold Coast and Sunshine Coast, offer excellent investment appeal in 2019. With considerable new and large-scale infrastructure developments, these beachside cities are booming. Both are within a one-hour commute from Brisbane. The Gold Coast has an international airport and both locations are equipped with state-of-the-art hospitals, universities and shopping. The most appealing feature of these two cities is the climate, boasting year-round warm temperatures and a sub-tropical climate. In 2018, the average home on the Gold Coast sold for $655,000. Rental yields are high, and inventory is scarce meaning great rental investment opportunities.
Hobart
Hobart is trending to be the next big thing with the population growing 2.17% in the last year. Above average rental yields, low property prices and a rising population are all great signs for those looking to buy property in Hobart. The median home price in November 2018 was AUD$635,000. For those attracted to the Tasmanian lifestyle, Hobart is an excellent place to buy property his year.
Canberra
The construction industry in Canberra is booming, with one of the highest number of building approvals nationwide. The economy in Canberra is also strong, fuelled by a big public-sector base (Canberra is the capital of Australia), a strong higher education sector and a growing population. Property prices remain lower than Sydney and Melbourne, with a median home price of AUD$672,000. The property market also shows to be trending upwards with a 3.6% gain from 2017 to 2018.
Knowing how to drive a bargain when buying could help you get more house for your dollar. Read our guide, How to Negotiate Abroad.
Outside of Sydney
For those that want to be close to Sydney but don't want to pay Sydney property prices, the regional cities of Wollongong and Newcastle provide excellent investment opportunities in 2018. Both cities are under 1.5 hours to Sydney, are thriving cities in their own right, and have exciting infrastructure projects underway supporting the economy. The median property price in both cities is around AUD$710,000.
Adelaide
Adelaide is consistently voted as one of the most liveable cities in the world, with some of the nicest parks and stunning scenery in the country. If you love food and wine, Adelaide will not disappoint. The average home price in Adelaide in 2017 was AUD$615,000. Suburbs like Redwood Park, Melrose Park and Modbury Heights offer solid investments showing strong rental yields. Adelaide has a slower pace to life than the bigger cities, has plenty of job opportunities yet living expenses are a fraction of the cost of Sydney and Melbourne.
Perth
After many years with a star real estate market, Perth is still feeling the effects of a suffering mining industry with property prices down 25% from their peak 2012-2013. For long-term investors, this is an excellent opportunity to purchase property at discounted prices. The real estate market in Perth is likely at or near its bottom. As such, those with the intent of buying and holding onto a property will reap the rewards of capital gains as the market begins to recover. Perth is a beautiful city, with some of the freshest air in the world, stunning coastline, excellent shopping and only a cheap flight away from Asia. The median home price in Perth in 2018 was AUD$810,000.
If you have any questions about buying here, don't hesitate to email the resource team on australia@propertyguides.com or call them 
on 020 7898 0549.
Perth is a beautiful city, with some of the freshest air in the world, stunning coastline, excellent shopping and only a cheap flight away from Asia.
There are so many great places to buy property in Australia this year, the question to ask is where do you want to be located, what is the purpose of the property and how much do you want to pay? The best way to decide where to buy is to experience a place first-hand on a discovery trip. This will allow you to get a feel for the different cities and neighbourhoods to see if you can envision yourself living there. If you're unable to visit the locations in-person collaborating with a local estate agent will help you get the information you need to make a decision.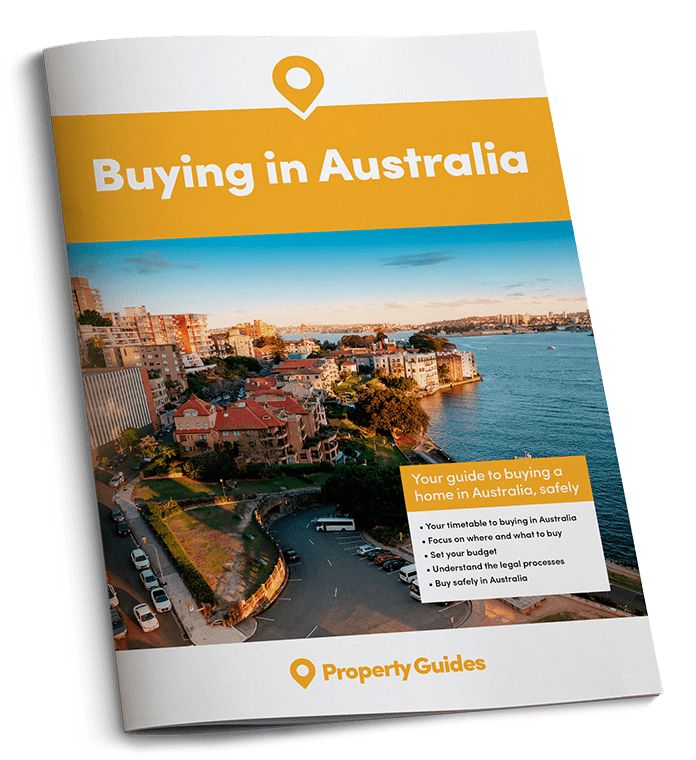 The Australia Buying Guide takes you through each stage of the property buying process, with practical recommendations from our experts who have been through the process themselves. The guide will help you to:
✔

  Ask the right questions
✔

  Avoid the legal pitfalls
Download your free guide to buying in Australia