Buying in Australia is an exciting step – maybe you've been searching for a while and you've finally found your dream home in the sun – but it requires some careful planning. Here's how the system works.
So, how do you buy a home in Australia? The good news is that the buying processes are relatively inexpensive, and it's all done in English!
The bad news? Property itself is pretty expensive and as a foreigner there are limits to what and where you can buy, and an extra step or two to take.
Moving to Australia isn't an impossible dream. Just take it step by step and it's easy, with the help of our free guide, How to Emigrate.
Foreign Investment Review Board application
Before buying real estate in Australia foreign buyers need to submit an application with the Foreign Investment Review Board. This can be done online, and applications are usually processed within 30 days.
Hire team of professionals
If buying from the UK or US, you should gather a team of property professionals to help you. This may include a buyer's agent (if using) and a solicitor. It is beneficial to research different fee structures and interview potential candidates before deciding.
Arrange financing, get pre-approvals
Getting finances in order before buying in crucial. Whether this involves transferring large sums of money from the UK via a payment specialist, obtaining financing from an international lender or seeking a mortgage in Australia make sure to leave enough time to organise financing before submitting offers on real estate.
If borrowing money from within Australia, make sure to have a mortgage pre-approval done (this can take up to 10 days), before writing an offer on a property. Expect the process of arranging financing to take up to a month.
View properties
The process of viewing and shortlisting properties will vary depending on how much research has been done prior to buying and how familiar you are with the area and the real estate market. Expect anywhere from a few days to a few weeks and even months to find the right property to buy. This process is often made much smoother with the assistance of a buyer's agent who can guide you through the process of buying, navigate the real estate market for you and set up and organise property viewings on your behalf.
If you're planning a visit to Australia to see some homes, don't miss our tips on how to make it a success in your free 

Viewing Trip Guide

.
The purchase stage
Now that you have your professional support team organised, your financing arranged and you've found a property that you like, you can begin the process of submitting an offer and entering into a contract..
Entering into a contract
Once you find the right place you will submit an offer on a document called Contract of Sale. This document will outline offer price, terms and conditions and dates. When submitting the contract to the seller's agent there is a period of negotiation until both parties can come to an agreement (sometimes an agreement can't be settled upon).
You will likely want to obtain legal advice with regards to the contract and include any conditions of the contract such as a building and pest inspection, valuation and any other matters to address before the contract is final.
Pre-settlement
If a signed contract is formed, there is a waiting period before settlement date. Settlement is the date when the property transfers title from the seller to the buyer. In the days leading up to settlement your solicitor will prepare paperwork for signing, the financing for the property will be finalised, and any other paperwork will be signed.
Typically the time period from contract signing to settlement is roughly six weeks. Once settlement day arrives, you will receive clear title of the property and it is now officially yours!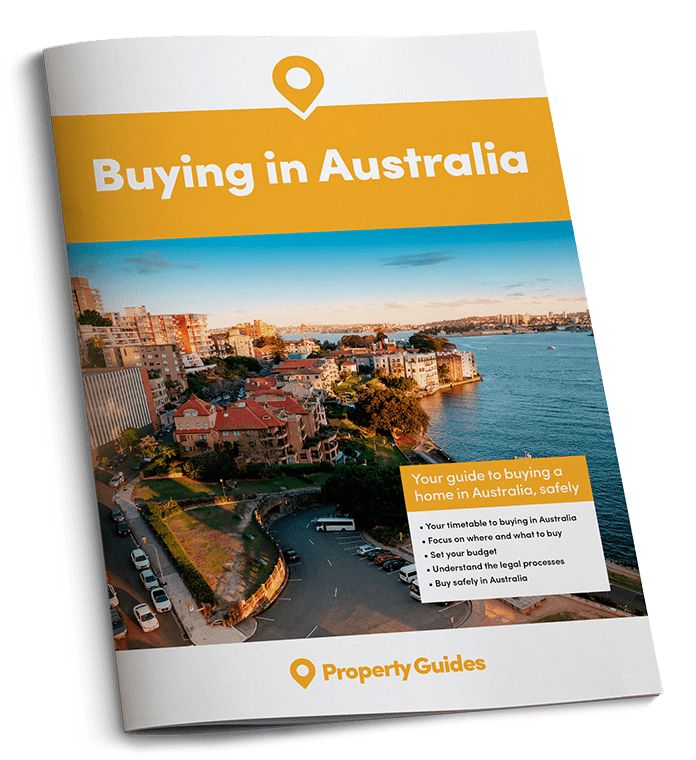 The Australia Buying Guide takes you through each stage of the property buying process, with practical recommendations from our experts who have been through the process themselves. The guide will help you to:
✔

  Ask the right questions
✔

  Avoid the legal pitfalls
Download your free guide to buying in Australia