One of the key aspects of drawing up your budget is working out how to finance a house purchase in Australia. Have a think to yourself about what your financial resources are, and compare that to the costs to expect – including ongoing ones. Find out more in today's article about drawing up your budget.
Key ways of financing your home in Australia
Ask yourself these four questions and you'll be well on the way to having a strong, clear and realistic budget.
What funds do you have available?
Write out every form of funding available to you – not just your cash and savings, but also investments you can cash in or pensions you can drawdown. You could also buy joint together with family or friends. What about your UK property: could you release funds from it by remortgaging or by equity release?
What additional sources of finance are there?
If you're buying with a mortgage, talk to an estate agent, lender or IFA to find out how much you can borrow, along with the deposit you'll need. Assess how the mortgage repayments will work – this is an extremely significant aspect of financing a house purchase in Australia. If you fall ill or are made redundant, will be able to keep them up?
Have you calculated for ongoing costs?
Make sure to factor in the costs that come after buying your property, such as local property taxes, maintenance and, of course, the travelling expenses to get there. Also don't forget how the exchange rate can mean pensions or investments don't provide a guaranteed number every month.
How will you manage your investments?
Anyone who is moving full-time to Australia could well benefit from taking their pension with them. However, you do need to start planning early: a QROPS (Qualifying Recognised Overseas Pension Scheme) normally takes about ten years to show a benefit. Typically, however, it does give you greater control over your pension and reduce your tax bill.
Managing your currency risk
The next step is to manage the risk of actually sending your money overseas. We recommend our readers speak to our partner, Smart Currency – ranked number one in the UK for money transfer by their clients on Trustpilot. They've helped so many of our readers over the years, and we always receive excellent feedback. You'll be assigned a named Personal Trader, who will explain the risk of purchasing overseas and how you can control that.
The main idea is that exchange rates are continually changing, minute to minute. As such, by just sending through the bank, you have no idea what you're getting, especially for regular monthly payments. A currency broker, however, can use a 'forward contract' to lock in the exchange rate for up to twelve months. That, way you always know how much you're paying.
Find out more about how to secure your transfers in the Property Buyer's Guide to Currency.
Buying costs
Finally, don't forget to consider the extra costs of buying in Australia.
Foreign Investment Review Board fees
Non-resident buyers need to apply to the Foreign Investment Review Board (FIRB) to get approval to purchase property in Australia. The fee payable to FIRB depends on the value of the property and can be calculated on the FIRB website.
Deposit
A deposit of at least 5 percent is required when purchasing property in Australia. In some cases, when buying pre-sales (off the plan) larger deposits are required. The deposit is typically due when the contract to purchase is signed and it's held in escrow until the deal completes.
Stamp Duty
Stamp Duty is the largest upfront cost aside from the purchase price of a property. Stamp Duty differs depending on State and is in relation to the transfer of land or property. Stamp Duty also varies depending on that type of buyer and the intended use of the property, there are some exemptions available for first-time buyers. A non-resident purchasing a new home as an investment property in NSW with a purchase price of $500,000AUD would pay $17,990AUD in stamp duty. Using an online stamp duty calculator is one way to decipher the amount of stamp duty applicable to your purchase.
Foreign Buyers Duty
Foreign Buyer's Duty is a relatively new charge (implemented in 2016). This duty is also called Surcharge Purchaser duty depending on the state. Not all states charge this additional duty and only purchases in New South Wales, Queensland, Victoria and South Australia attract this additional charge which is 1.5-8 percent of the purchase price. For more information see here.
Buyer's agent
Buyer's agents are not required when purchasing property in Australia however foreign buyers often rely on the expertise of a buyer's agent to navigate them through the process of buying a home and real estate market conditions. In Australia typically the seller's agent, who looks after the best interest of the seller, facilitates the entire buying process. By hiring a buyer's agent buyers have their best interest taken care of. The cost of a buyer's agent is typically 1-2.5 percent of the purchase price.
Mortgage costs
For buyers that require mortgage financing, additional fees should be factored in. Loan application and establishment fees can be a couple hundred pounds and lender's mortgage insurance, which is required when a loan that is over 80 percent of the properties value, is required (this insurance is 1-3 percent of
the loan amount). If the bank requires a property valuation to be conducted, this can be a approx. £100.
If not seeking financing in Australia factor in the cost to transfer money abroad, converting it from one currency to another and any additional fees should be calculated. Using an international payment specialist like Smart Currency Exchange is an excellent and cost-effective way to transfer money from one country to the next.
Legal fees
A conveyancer or solicitor is required to prepare legal documents and provide legal advice during the home buying process. Expect to pay around £900 in legal fees.
Building and pest inspection
Buyers will want to arrange a building and pest inspection to ensure the home is in good condition. These can cost between £200-£400 depending on the size and type of home and where it is located.
Move-in costs
Many buyers neglect factoring in move- in costs when purchasing property. Factoring in the cost to move personal belongings and furniture which can range from £500 to £5,000 depending on how much stuff is being moved, and if international movers are required. There is also a small cost to set up utilities such as electricity, cable, and internet.
Ongoing costs
On an annual basis, property owners will need to pay home insurance and council rates both of which are generally around £600 a year but vary based on the state, location, coverage level and property type. When buying in a strata complex make sure to consider strata (or body corporate fees), these fees can be anywhere from £50-£200 and go towards maintaining the common property such as parking, swimming pools, common areas and gardens.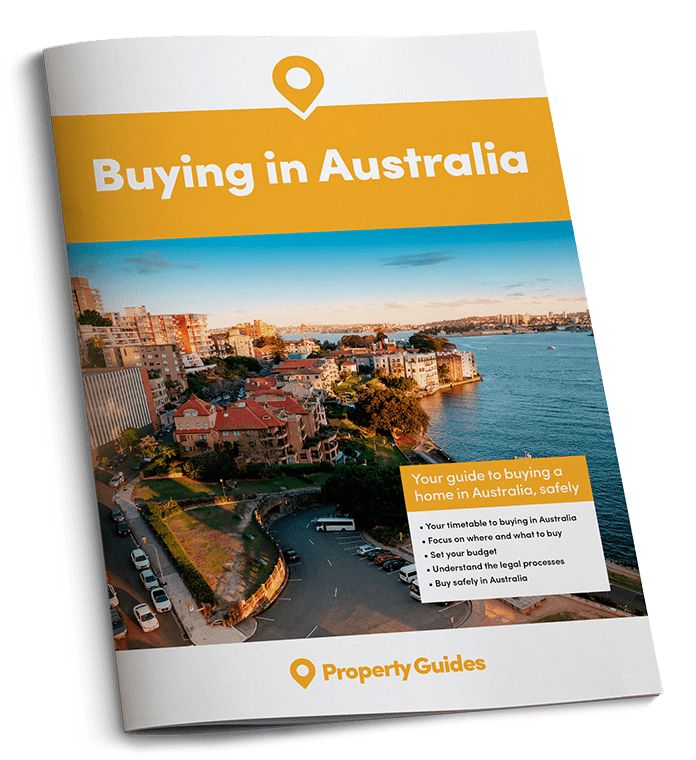 The Australia Buying Guide takes you through each stage of the property buying process, with practical recommendations from our experts who have been through the process themselves. The guide will help you to:
✔

  Ask the right questions
✔

  Avoid the legal pitfalls
Download your free guide to buying in Australia